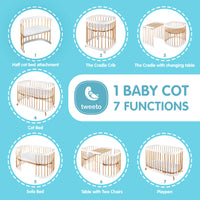 7 FUNCTIONS IN 1 BED
The Tweeto baby bed grows with and adapts to the needs of your growing child. In the first days of your baby you can first use the Tweeto baby bed as an extra bed, then as a mini bed or bassinet on legs or wheels. These practical variants give your child a feeling of security.


The price of the crib includes all 7 transformations, legs, and silent wheels.
Tweeto 7in1 baby cot
MULTIFUNCTIONAL
As soon as your child has grown up, this MULTIFUNCTIONAL and MOBILE baby bed can be converted into a cot - a playpen - an open bed or couch and then even a children's table with 2 stylish chairs, on which your child can then paint, do handicrafts and develop.

Design: not really round - not really oval - not really angular. And yet it has a little bit of everything.
Tweeto 7in1 baby cot